Locate a Swim School near you
AUSTSWIM  – Swim School Locator – Find an Austswim Accredited learn to swim school near you.
SWIM AUSTRALIA – Swim School Locator – Find a Swim Australia Accredited learn to swim school near you
Learn about common problems with pool fence safety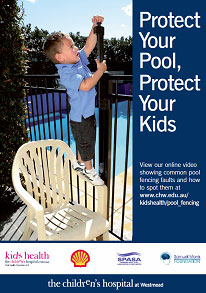 Click on the image above to visit the Protect Your Pool, Protect Your Kids page to view a video with drowning prevention and awareness tips about pool fencing and keeping your kids as safe as possible around backyard swimming pools.
Teach your child (from baby onwards) how to swim
Get lessons from legendary  Australian  Water Safety Advocate, infant aquatics pioneer, learn to swim expert and gold medal Olympic swim coach Laurie Lawrence on how to teach your baby from 0 months to 5 years  how to swim @ World Wide Swim School
Lessons include:
Baby swimming, water safety and survival skills
Learn to swim techniques for toddlers and preschoolers
Swimming stroke development for school age children
Teaching freestyle, backstroke, breaststroke, and butterfly
Watch Baby Evie progress through learning swimming and water safety.
See the Laurie Lawrences methods in action.. on his own granddaughter. Laurie's daughter Emma applies the lessons learned from Laurie in teaching Evie to swim and water safety. See Evie progress.
Kids alive do the five
Get great information on the five steps and the catchy tune that will help you and your children remember the important components that make up the water safety system. Visit the Kids Alive website.
Make this weekend your home pool safety weekend
The Samuel Morris Foundation proudly supports Royal Life Saving Societies KEEP WATCH program. You can download and complete a home pool safety checksheet to help ensure that your pool is as safe as possible. We encourage you to complete the online version of the checksheet as this will help with further research on identifying common faults etc. There are also a range of other Fact Sheets available. You can access all of this information from our partner site Home Pool Safety
Uncle Toby's SwimKids
Uncle Toby's provide a range of advice on water safety and tips from some Olympic swim legends visit SwimKids
More Information
We are also developing a range of new content to provide water safety tips and advice to parents.  Have you signed up to our newsletter? We will let you know via the newsletter as soon as this content becomes available.