Is your pool as SAFE as it can and should be?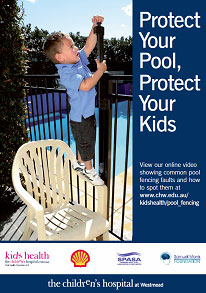 Video lessons on correct pool fencing.
The Samuel Morris Foundation has been working in partnership with KidsHealth at the Childrens Hospital at Westmead and the Swimming Pool and Spa Association to produce the "Protect your Pool; Protect Your Kids" video.
The video clearly explains how to make sure that your pool complies with all of the requirements for pool fencing according to the Australian Standards.
Learn about common faults with pool fencing!
The video also includes chapters on common faults with pool fencing… items like gates not closing, gaps that are too big.. and it also provides advice on what to do about these faults to make sure your pool fence is correctly installed and maintained.
Learn about other water safety and drowning prevention tips
The video also covers information on other safety tips, including safety around water on rural properties, dealing with small inflatable pools etc.
Click on the image at the top of this post to watch the Protect Your Pool, Protect Your Kids video.