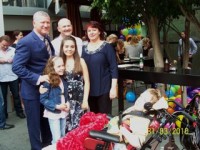 The Samuel Morris Foundation first came into contact with Scott Cam when he and the rest of the amazing cast and crew from Domestic Blitz came into the lives of the Morris family thanks to a generous nomination from within the community for the work that the Foundation does.
Scott really is a great man, what you see on TV is what you get in real life. A genuine caring and compassionate knock about Aussie.
So when channel nine contacted us to be part of a surprise for Scott there could only be one answer….YES!
Scott has been hosting the show "Random Acts of Kindness"  where  Australia's unsung heroes are rewarded for their generosity when he,  Karl Stefanovic, Shelley Craft and Simmone Jade Mackinnon help make their dreams come true.
In typical style for both Domestic Blitz and Random Acts of Kindness Scott was surprised in the middle of doing what he does best… helping out others and was treated to some pampering and then a re-union with some of the people whose lives had been touched by the work that Scott does.
The Samuel Morris Foundation is proud to have Scott Cam as an Ambassador
Watch Scott's well deserved Random Acts of Kindness surprise