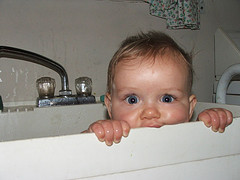 A Queensland Families story is another reminder about the importance of knowing CPR…
The Following text by Sue Harris appeared in the Central and North Burnett Times on 14th July
"The toddler was face-down in the bathtub and not breathing. As this scene from a real-life horror movie flashed before a Mundubbera family, it was the three-year-old's father who saved her life.
Thanks to her parents' knowledge of CPR and first aid, little Katherine Loakes is alive and oblivious to the trauma her near-death experience caused last Monday night when she almost drowned in the tub.
Katherine was having a bath with older brothers Raymond and Joseph when mum Mel left the room for a short time to get her pyjamas. In that short time, Katherine suffered a seizure and was face-down in the water when the boys' screams alerted both parents.
Katherine was not breathing and while her father, Ron, performed CPR, her mother called the ambulance. Breathing was restored when paramedic Shannon Whelan arrived a short time later. Katherine was transported to Mundubbera Multi-purpose Health Service and then to Bundaberg. "Ron and I both know CPR and first aid but never expected that we'd have to use it to save one of our children," the girl's mother said.The couple dreads to think what would have happened if they did not know how to resuscitate their little girl. and the ambulance could not get to the home in time.
They urge everyone, especially parents, to learn CPR and first aid because it does save lives."
Help us to continue to spread the important message about bathtub safety!

and help spread the message through your social networks using the share buttons below!