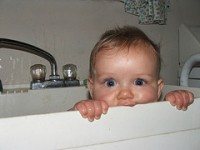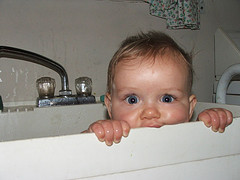 Bathtub drowning deaths contribute to horror start to 2012
A number of recent child drowning deaths have occurred in bathtubs, contributing to the horrific start to 2012.
Two deaths in Sydney in two days
A nine month old baby died after drowning in a bathtub at Illawong in Sydneys south on Jan 14, followed by the death of a two year old in a bathtub incident in Sydney's north on Jan 15.
Follows Victorian tragedy
These follow on from the death of nine month old in a bathtub in Ballarat Victoria at the start of January.
Bathtub drowning stats
According to Royal Life Saving   bathtub drownings claim an average of 5 Australian childrens lives every year, and 47 children are hospitalised due to bathtub near drowning incidents. One if four hospitalisations due to near drowning will result in permanent injury such as brain injury.
With three deaths already occuring in the first two weeks of 2012, we urge all parents to take care around bathtime and to follow these safety tips.
Safety tips for bathtime
Everything ready for bathtime  – make sure you have towels, clothes etc all ready to go before putting the child into the bath
Water kept to a minimum depth
Cold water run first, turned off last
Test the temperature of the water
Keep children within arms reach
Avoid distractions – Dont leave the bathroom to answer the phone or do other chores …even for a minute
Never leave a child alone in a bathtub