Creating a community of empathy to deal with grief, shame and isolation following a drowning or near drowning
Jessica Hagy drew this with the tiltle "How empathy happens"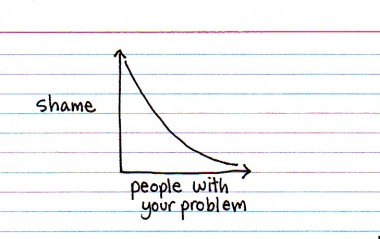 After a child has a near drowning, or after a child has died as a result of drowning,  there is an overwhelming feeling of pain and far too often shame.
It is an experience of feeling like you are alone in the world, and while almost every parent will experience this feeling of isolation and shame, the sad reality is that there are many people who have commenced this journey before you.
It is also a sad reality that until we as a community change what we are doing about educating people about the risks of drowning and change how we as a community manage the areas that put our children at greatest risk of drowning, far too many people will be commencing the journey after you.
The important thing, as Jessica Hagy's drawing shows, is to become part of a community of people that understands your experience.
How to join the community…
The Samuel Morris Foundation is here to help provide a community that understands and can support the feelings associated with supporting a child disabled by near drowning (0r other hypoxic brain injury), or has lost a child to drowning.  So if you or someone you know is starting this journey, or have already been on this journey for a while get in touch, and lets share the journey to help make each other stronger!