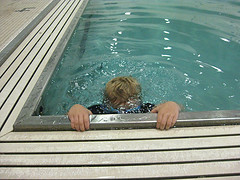 So your child has been enrolled in Swimming Lessons for a while now and they have developed some skills and you start wondering "when is the right time for my child to stop swimming lessons?".
That is a very interesting question, when is the right time for your child to stop swimming lessons? What factors would you be using to make your decision?
Julia Ham is a former Australian Representative swimmer who now runs Hampton Swim School specialising in Aquatic Classes for children from 3 months of age through to adult. Julia is passionate about water safety and has written a great piece inspired by one of her learn to swim parents bringing up the topic of their child stopping swimming lessons and mentioning that they thought their child was now "water safe".
I would encourage you to read Julia's article How do I know when is my child ready to stop swimming lessons
Julia addresses the issue of being "water safe" or "drown proof" and looks at an example of the type of skill level that she suggests should be reached by a child, and she provides this GREAT piece of advice:
"So, when it comes to the question – "How Do I Know When My Child Can Swim?" or "When is My Child Ready to Stop lessons?" – don't base your answer on your child's preference for one activity over another. Ask yourself if your child has the water competence to give them the best chance of survival in all situations."
Please… read the full article


To help us continue to provide information that helps people keep their children safer around water!