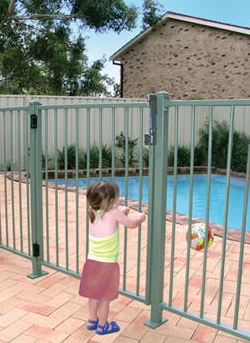 Recent changes to the NSW Swimming Pools Act came into force today, Monday 29 April.
Pool Owners Must Register Their Pool
As part of the changes all NSW Pool Owners are required to undertake a self certification check, and then register their swimming pool on the NSW Governments Swimming Pool Register Website. There are also changes that come into force in regard inspections for rental properties, properties for sale and for pools in areas like hotels and caravan parks.
The site provides downloadable check-sheets to assist pool owners to undertake the self certification check, links to the relevant legislation and a link to register your pool once  you have undertaken the check.
Failing to register your pool within the next six months could result in a $220 fine (rising to up to $2,200 if you matter is taken to court).
Samuel Morris Foundation urges all pool owners to comply
The Samuel Morris Foundation has done some media in relation to the changes including this ABC News interview, and various ABC Radio interviews.
Undertaking the self certification check could show you faults that you were previously unaware of. We urge all you pool owners to immediately rectify any faults that you find as a result of doing the inspection.
The effort to inspect and repair any faults is an investment that will make your pool environment safer and help keep any children who may visit your property safer as well.
A move in the right direction, but still more to be done.
The Samuel Morris Foundation welcomes the changes that bring the register into force, and see the development of the register as the first stage along the path to better compliance with safety standards.
We still have concerns about some elements of the changes.. including a likelihood that it will not significantly impact on the number of non-compliant pools, the potential political ramifications for advocacy as a result of the register process and concerns about the ongoing inspection program associated with the changes. We will set out those concerns in another post. However, the Samuel Morris Foundation will, with your support, continue to advocate for further changes.