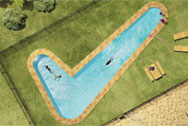 The second round of changes to Queenslands pool safety legislation come into effect today (1 December 2010).
After making submissions to the Queensland Government throughout the Queensland reform process, the Samuel Morris Foundation welcomes the commencement of these new laws.
The Samuel Morris Foundation will continue it's contribution to pool safety in Qld through our participation in the Queensland Pool Safety Council, and our broader commitment to water safety in Qld through further strengthening our partnerships with Royal Life Saving Qld, Austswim, Swim Australia and continuing to develop relationships with other safety advocates.
Information on the new Queensland laws and what they mean for pool owners, people selling a property with a pool and people renting a property with a pool can be found at  http://www.dip.qld.gov.au/poolsafety