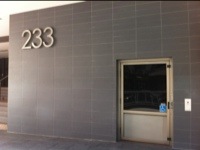 Today Samuel was out and about accompanying Michael undertaking a few different tasks. One of them involved visiting the building in the photo above.
No ramps, but that's OK, they have a lift to assist with wheelchair access to the lobby. Except no-one answers the buzzer attached to it for attention…
After numerous attempts, one kind person approaches and asks " would you like me to go and tell security for you?", an offer graciously accepted.
The security guard arrives, very helpful, but then tells me the lift has be broken "for quite a while", I'll have to take you around to the back. As mentioned the guard was very helpful… But the "back entry"?……
Past all the bins and other assorted materials near the loading dock…
WHERE IS THE DIGNITY IN THAT?
They obviously don't have someone in a wheelchair working in that multistory building.
We have a long way to go to make buildings accessible for everyone… This sort of story happens day in and day out to people with disabilities, and it's one of the reasons we are advocates in the disability space as well as the water safety space.